Different Hotends
 

Could you measure one of your nozzles from tip to end of the thread please?

Not very precise, but overall length is roughly 12.61mm and thread base to top is 7.4mm. These are wobbly measurements holding the nozzle in my hand. The numbers I'm getting are all very close to the E3D V6 nozzle dimensions.

3D Solex sells them as "i3 Matchless" individually or as a "Prusa i3 nozzle speed doubler" set. 

 
Are these measurements of your standard E3D V6 nozzle or your Solex nozzle?

Here's a photo of my Solex with my V6 Mini nozzle, you can see they're the same length overall but the thread is noticeably shorter on the solex. 
Posted : 10/04/2021 7:35 pm
I have just noticed that in the Solex photos of the I3 nozzle found here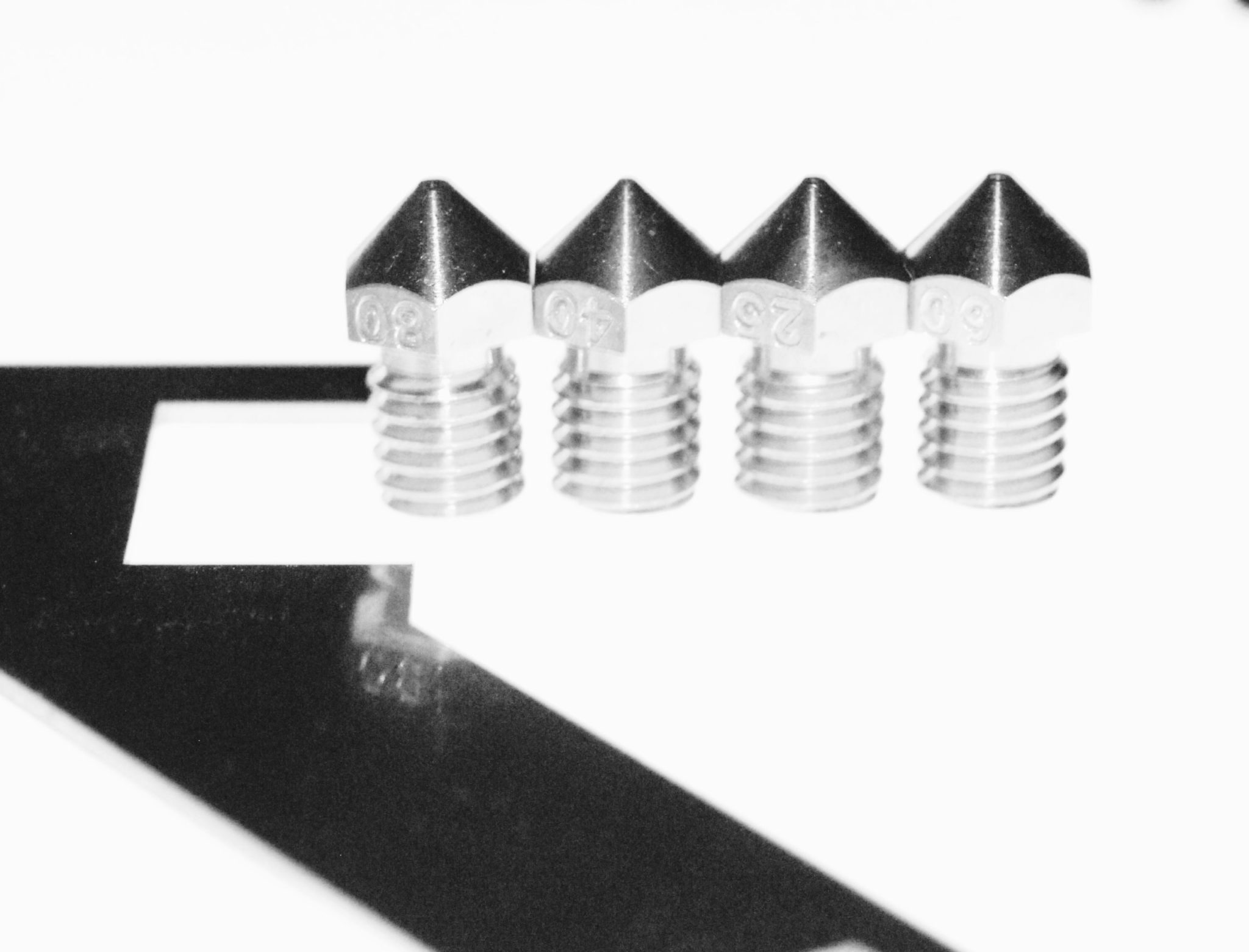 there's a gap between the thread and the hex, same as in a proper V6 nozzle. If you look at my photo
there's no gap on my Solex nozzle.
This post was modified 2 months ago 2 times by
Lung
Posted : 10/04/2021 9:26 pm
After a few months of fighting stringing, I have found that several other hotends, but especially the V6 on the mini, require more retraction that the stock Mini hotend.  
Posted : 22/04/2021 10:42 am
@cwbullet
I have the V6 Dragon Hotend and my retraction settings have stayed the same as the original Prusa MINI Hotend, although I was generally 1.6mm previously as the 3.2mm retraction didn't work well for me, but obviously the reduced retraction applies for many and others need more and it probably doesn't matter which extruder is used, there are just too many variables that will affect the end result.
And just for fun try out a retraction for PLA with 1.4 mm, who knows, it might work better for you.
Posted : 22/04/2021 5:03 pm
@daniel
I had similar results with the Dragon.  It was 3.2 on the original and 3.2 on the Dragon.  The V6 and a couple of others, my retraction was 4.2.  
Posted : 22/04/2021 6:14 pm
In particular, the retraction is more essential with PETG.
Posted : 22/04/2021 6:17 pm
With PETG I am only at 1.6 mm, but with a lower retraction speed than with PLA, only standard profile PTEG Prusa MINI.
In the beginning when I was assembling my MINI I just had problems and the prints were terrible even with a retraction of more than 3.2mm. At some point I decided to go with PLA on 1.4mm and it was wonderful.
And there are hardly any threads, of course it also depends on the filament and the layer height.
My setup from the start, where I assembled my MINI:
Bondtech extruder
BondTech heat break
Capricorn PTFE Teflon hose up to the hotend without intermediate piece
Trianglelab T-V6 Plated Copper ruby nozzle
Posted : 22/04/2021 7:09 pm
Hey Folks! I'm glad I found this thread as I have a Mini+ on the way and I am lurking in case I decide to replace the hot end. I hope I don't need to, but I just wanted to say thank you to all of you for the information that you have collected and provided. I also found this link to a Micro-swiss  mount (might be helpful for anyone that has a spare laying around), though I am leaning toward the V6 if I make a replacement.
https://www.prusaprinters.org/prints/63643-micro-swiss-hotend-mount-v2-for-prusa-mini
Thanks again,
Wesley
Posted : 17/05/2021 7:56 pm
Hi all, like many of us trying to get this little machine to print decently on a regular level I've grown a little frustrated with the underextrusion problems, most likely being caused by the design of the mini's hotend. 

I had blobs of filament under the ptfe-tube in the heatsink even after trying to shove the hotend as far up as possible and so on. 

Has anybody used a different hotend like the E3 V6 on a mini yet? Direct drive extruder won't likely be happening due to the cantilever design I guess, because the wait would probably be too much for the x-axis. 

Thanks and have a nice day!
I may have mentioned it already, but I've been using an E3D V6 hotend from the MK3 on the Mini for quite some time and am very happy with it. I mainly print ASA Jet black with it.
It is important that if you change the filament type, the hotend or the nozzle should be well cleaned (cold pull with nylon transparent or similar).
Statt zu klagen, dass wir nicht alles haben, was wir wollen, sollten wir lieber dankbar sein, dass wir nicht alles bekommen, was wir verdienen....>
Posted : 17/05/2021 8:44 pm
@karl-herbert
I will second that recommendation!
Posted : 17/05/2021 8:46 pm
@karl-herbert and @cwbullet,
Yep, I have had a lot of success with my MK3S with a variety of materials, but I am a bit nervous with the stock mini after seeing all the issues here. (Recognizing that people without problems don't post as often, so there are tons of well behaved minis out there). So my plan is to test things out and have a V6 ready if I need it.
@karl-herbert, glad to hear things are going well for you, do you have the stock extruder or did you upgrade to something else?
Wes
Posted : 18/05/2021 1:47 pm
@wes_young
I developed the extruder myself according to this functional principle: https://www.bernis-simple-bowden-extruder.com/v2-bernis-magnetic-alu-flexar-extruder/
All components of the extruder are easily accessible, easy maintenance and reliable operation (with integrated filamentsensor).
In the meantime I have converted all couplings to PC-M8x1.25.
wbr,
Karl
Statt zu klagen, dass wir nicht alles haben, was wir wollen, sollten wir lieber dankbar sein, dass wir nicht alles bekommen, was wir verdienen....>
Posted : 18/05/2021 7:41 pm
@wes_young
I would strongly recommend you follow that path and get good that the stock hotend before altering.  Print all the parts and get some experience and then move to install the V6.  
If you have problems, we are here to support you.  
Posted : 18/05/2021 7:45 pm
@karl-herbert
That extruder looks amazing! Would you mind sharing the STLs and parts list? Would love to build one for myself.
Posted : 18/05/2021 8:28 pm
I agree with @cwbullet and would first do everything possible to get the original components running. The Flexar Magnet extruder is complex to build and requires a lot of precision.
wbr,
Karl
Statt zu klagen, dass wir nicht alles haben, was wir wollen, sollten wir lieber dankbar sein, dass wir nicht alles bekommen, was wir verdienen....>
Posted : 18/05/2021 10:17 pm
With the arrival of extruders in feather-weight category based around planetary gears and small pancakes - like Orbiter, Galileo, Sherpa Mini, ... - do you think MINI would handle a direct drive one day? Some of the recent contestants in SpeedBoatRace challenge feature interesting lightweight designs of direct drives, to lower mass of print head moving at crazy speeds and accelerations. How much does standard assembled MINI hotend even weight? 🙂 
There are some interesting things on Bowden extruder side of things, to be fair.
Posted : 18/05/2021 10:52 pm