Crashes, (forced) reboots and weird symbols on display
I have been using my Pruse i3 MK3S, and it has worked flawlessly for ~3 months. I use OctoPrint on a Pi3B(+? can't remember), and I have it in an enclosure in the shed (temperature in shed currently ~3-7°C, humidity is fairly high, but certainly lower that outside the shed) with both the power supply and Raspberry Pi outside the enclosure.
Lately, it has been behaving kind of odd. It has started to crash every time I print (sometimes during the 9-point pre-print calibration, sometimes during the print, rarely at the same time/place during the same print, but often the same few places if crashing during pre-print calibration). And often (if not always) when I start a print from OctoPrint, the printer (not OctoPrint, only the printer) will become unresponsive, and the reboot itself. (It seems like this reboot startup takes longer than I'm used to?)
Things I've tried/verified:
Upgrading printer firmware (now I'm on 3.8.1, the issues were the same before and after this, and I've tried everything listed below both before and after upgrading).
Cleaning out any filament debris within the enclosure (there was almost none, and none in the vicinity of belts/motors).
Manually moving extruder/build plate back and forth. There is no resistance.
Removing USB cable (OctoPrint) and printing directly from SD card (this didn't change anything, but I did notice a weird thing with the screen - maybe it was always happening, and I only saw it because I was physically at the printer when not using OctoPrint? See image below).
Re-calibration (like the first time, calibrated everything). I haven't moved it at all between when it worked, and when it didn't, but I tried anyway. No effect.
I hope someone has an idea of how to fix this?
/Cheers!
Screen sometimes shows weird symbols: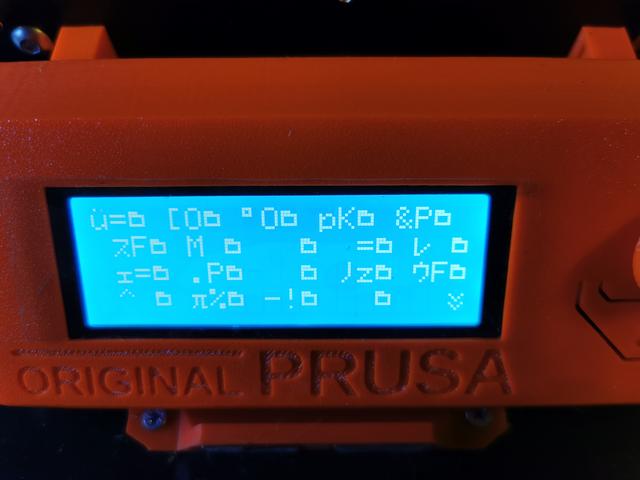 Video of an example of a crash during pre-print calibration (crash at ~22 seconds, just after calibration starts (~20 seconds). It continues after the crash, and it is not the extruder crashing):
This topic was modified 10 months ago 4 times by
Aephir
Posted : 08/01/2020 10:25 am
Hi,
i had the same issue (see attached image). My i3 MK3s stopped at first z-layer with the same screen and was dead. After a force reboot (X-Button) the display shows ERR-MINTEMP. 
i unplugged the thermistor for the hotend and it was really dead. i'm waiting for warranty-replace (tomorrow) and will try to continue ..
regards,
Friedhelm
Posted : 08/01/2020 12:17 pm
Thanks, I've also reached out to Prusa now.
Please do update when you receive the thermistor, whether or not this fixes the problem!
Cheers!
Posted : 09/01/2020 8:13 am
Posted : 09/01/2020 8:38 pm
Very nice, thanks!
I got a reply from Prusa with a list of things to try. I'll leave it below, in case anyone else needs a troubleshooting guide.
(I just had a baby, so not sure when I'll have time to test, but I'll update this post when I do)
---
Answer from Prusa:
There are several possible reasons why you experience these issues. I hope we will be able to resolve it together soon.
Below, you can find a more extensive suggestion guide so we can cover many possible causes of your issue. Please, follow them and let me know the results then. Thank you.
Please, unplug rather all cables from the controller board, clean the connectors with compressed air and reconnect them back (see the attached photo). Don't forget to inspect the power cables connected to the bottom terminals of the printer's main controller board, the cable forks need to be inserted properly and the screw tightened well. I suggest to replug them and tightened them again as well. 
All cables need to be firmly inserted into the connectors then. Make sure the power cables is not damaged by measuring their continuity and that the heater and both thermistors are not damaged either by measuring their resistance with a 
multimeter
as shown in our guide
here
.
To test the thermistors, you can preheat the printer and fist bend the cables behind the extruder in all directions quite expensively and observe if any temperature fluctuations occur on the screen or of if any error message shows up. Then to the same with the cables behind the heatbed.
To be sure the garbage letters are not caused by damaged LCD cables, please unplug both LCD cables on both ends and make sure that all the pins on the RAMBo board and the LCD board are straight. Then plug them back, pushing them in all the way. From my experience, it can be tricky to ensure full contact on the cables, so push the connectors in all the way. If the problem persists, you may try to turn the printer off, unplug the cables, lay them down on a flat surface and gently stretch them. Then plug them back in and turn on the printer. Also, try to loosen a little bit the screws holding the LCD board in the printed part.
Lubricate the X and rather also Y axis smooth rods according to
this guide
. Make sure the lubricant get into the bearings and this should help with smoothness of the x-axis movements. In case you find some scratches on the x-axis smooth rods, you can try to rotate the bearings by 45 degrees and this might help too.
On the video, I see the x-axis belt might be slipping. Make sure there's a gap between the x-axis motor and the pulley, the grub screw in the pulley needs to be tightened well against the flat part of the motor shaft. If you go to Support -> Belt status both number should be at best between 250-280. Higher number means the belt is too loose and needs to be tightened. The numbers will update after you re-run a selftest again.
​
Then, please do a full
factory reset of the printer
, where you choose to clear all data. This clears old calibration and voltage data not wiped by a firmware update. Then (re-)flash the
newest firmware
, regardless of which version you currently have or when did you do it last time. Also, do a
factory reset of the MMU
and (re-)flash the 
newest firmware
to it as well. Then calibrate your printer again. You need to do the whole procedure.
Posted : 14/01/2020 1:34 pm
Any luck with this? Having the same problem.
Model: Prusa i3 Mk3S
Usually happens during preheat phase.
Prints have been fine.
Posted : 26/01/2020 1:29 am
Highly delayed answer, but after going through most of the troubleshooting suggested by Prusa, I did see some high resistances (especially for the thermistor). I left it for a bit, while occupied by other things, and when I came back and wanted to measure again, and note the exact values, they had decreased significantly.
I tried rebooting, and starting a print, and everything's been working fine for weeks now. My best guess is that perhaps the humidity in the shed was a bit high (it had been in the 90+% for many weeks when the issues started, and is not ~70%).
Not sure what else to say, I disassembled most connections, re-tightened them (but this in itself didn't fix it), measured resistance in thermistor and heat bed, but didn't change anything else, as far as I can tell. Except the weather, since it is in a non-heated shed. It never freezes, even when it does outside, but the humidity seems to follow the outdoor humidity.
Sorry if this doesn't help you.
Posted : 03/04/2020 10:57 am